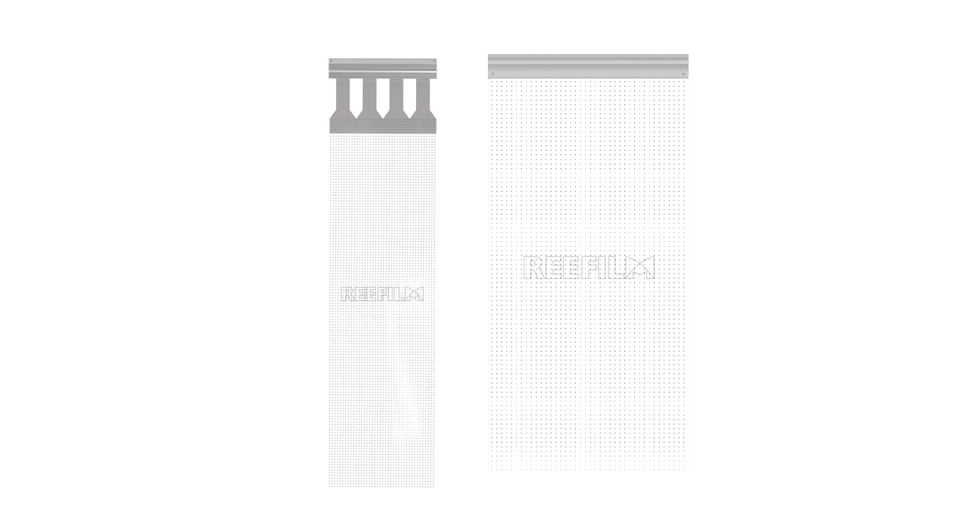 Product features


LED
High transmittance
Easy to install
AB version


light drive in one,

independent research and
development, high reliability,

mini LED device, industry leading



The transmittance is
more than 90%,
which does not affect
the glass daylighting
without steel structure,
just stick the thin screen
slightly and connect the
power signal
Flexible
Light and thin
UV resistance
Flame retardanyt


for any surface

as thin as 2.5mm, as light as 5kg/m2
5~10 years can ensure no yellowing
flame retardant grade V1
Product parameter table


Module size (mm)
1000*400
Peak power
600w/㎡
LED light
REE1515
Average power
200w/㎡
Pixel composition
R1G1B1
Work environment
Temperature -20-55
Humidity10-90%
Pixel spacing (mm)
8*8
Weight
1.3kg
Module pixel
125*50=6250
Thickness
2.5mm
Pixel/㎡
25600
Drive mode
static state
Brightness
2000/4000
Control system
Nova/Colorlight
Permeability
92%
Typical value of life
100000H
Angle of view °
160
Grayscale level
16bit
input voltage
AC110-240V50/60Hz
Refresh rate
3840Hz
Breakpoint continuation
Stable performance, support two-way Drive drive-in LED,
When a single point of failure, the backup data signal starts automatically, seamless switching, without affecting the display effect.
High reliability
The fault lamp beads should be kept off. If the connection is abnormal (signal, power supply, ground) inside the chip, the lamp beads
will be extinguished to avoid the phenomenon of steady on and random flashing.
The lamp bead life is more than 100,000 hours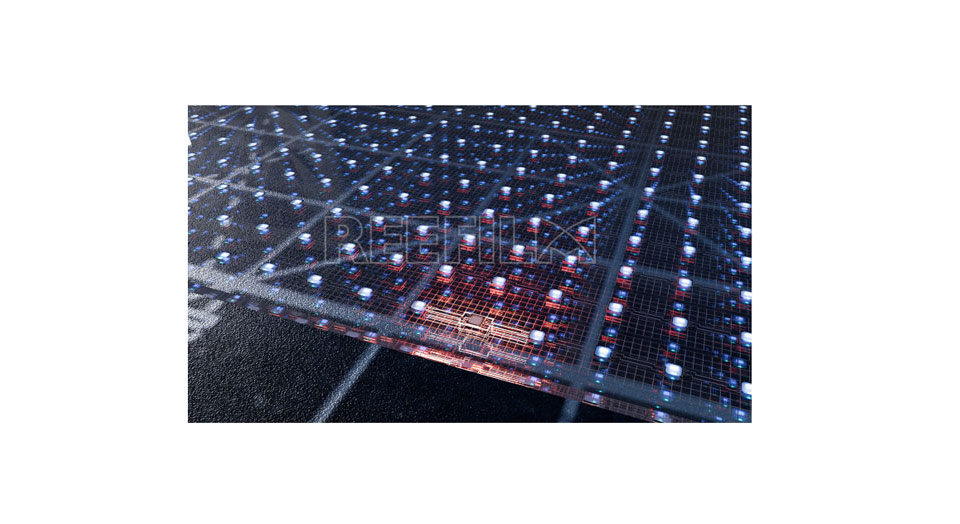 High gray scale display (true 16bit)
RGB channel adopts 32-level current linear regulation, and maintains true 16-bit grayscale display under any current, which is applicable to the consistency of indoor,semi-outdoor and outdoor current requirements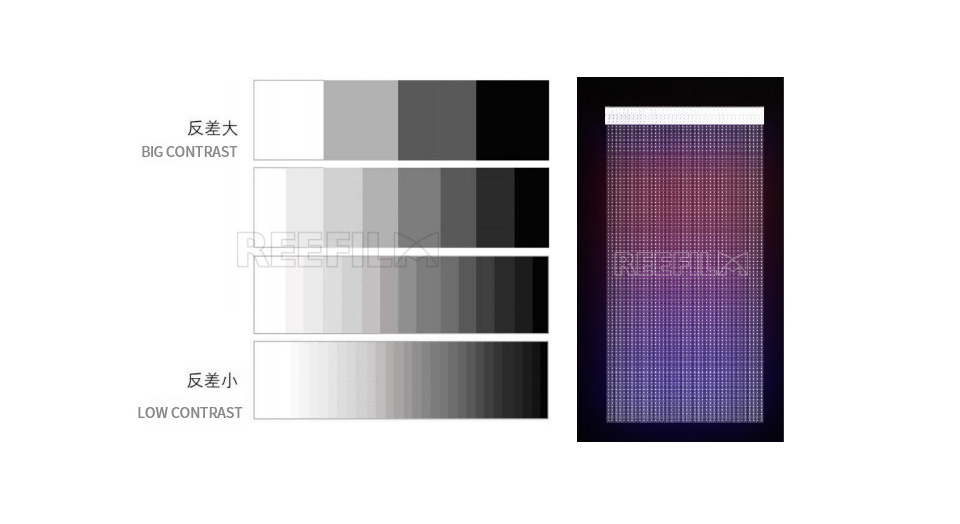 No steel structure is required,just stick the thin screen slightly and connect the power signal
Self-developed glue filling process (the screen body with its own viscosity can be directly attached to the alass surface, with strong colloid adsorption, and the viscosity will also increase with the passage of time due to the inherent characteristics of the colloid)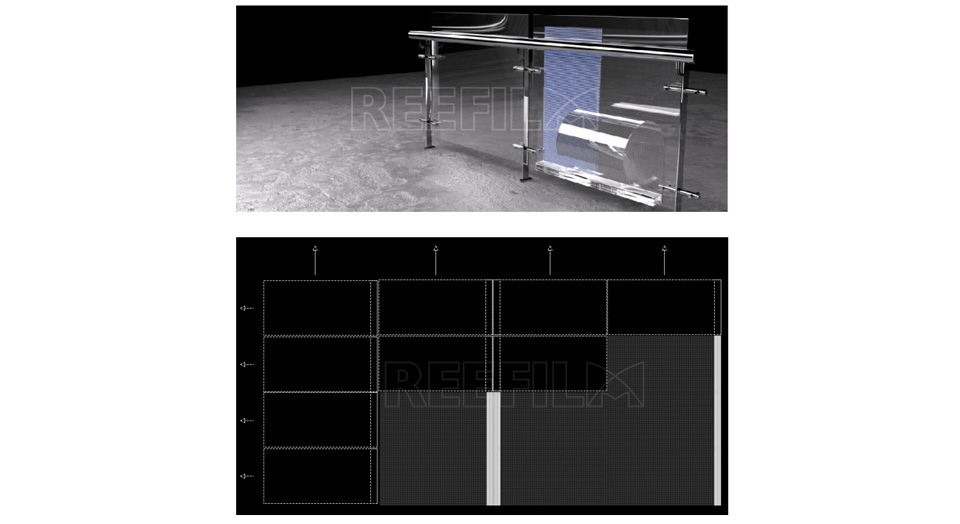 Installation diagram and wiring diagram
(same as asynchronous configuration)


High transmittance
Use the integrated MiniLED lamp beads to improve its own permeability
Use invisible grid circuit to improve its permeability
Patented products
Self-developed chip puts the chip inside the LED beads, simplifying the circuit design and ensuring extremely high permeability.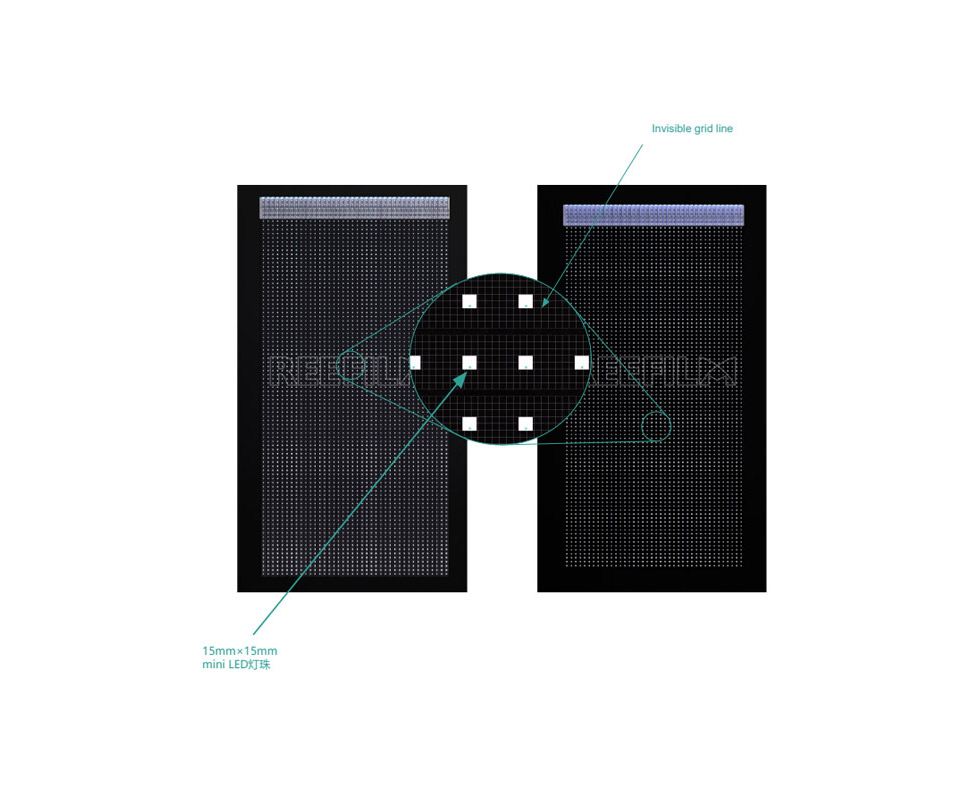 Flexibility
Flexible design: Made of flexible materialsit can be flexibly bent and curved with a minimum diameter of 6cm.
adapting to various curved shapes, such as cylindrical, arc, etcthis gives greater flexibility in design and installation.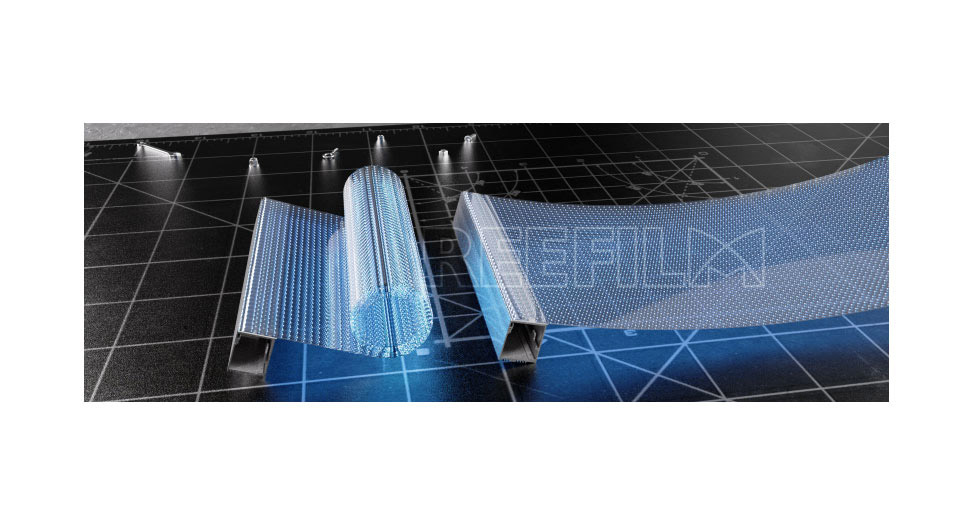 Bendable LED screen, also known as a flexible LED screen, is a display technology that allows the screen to be curved or bent to a certain degree without affecting its functionality. It is made possible by using flexible materials and advanced manufacturing techniques.

Bendable LED screens typically consist of an array of individual LED modules that can be interconnected to form a larger display. These LED modules are mounted on a flexible substrate, such as a polymer or a thin metal layer, which allows them to be bent or curved.

The individual LED modules themselves are made up of tiny light-emitting diodes (LEDs) that emit colored light when an electric current passes through them. By controlling the intensity of each LED, the screen can display images, videos, or any other visual content.

One of the key advantages of bendable LED screens is their ability to adapt to different shapes and surfaces. They can be bent to create concave or convex displays, wrap around curved surfaces, or be molded to fit irregular shapes. This flexibility opens up new possibilities for creative and innovative display designs.

Bendable LED screens have various applications, including advertising and signage, architectural lighting, stage productions, automotive displays, wearable technology, and more. Their ability to conform to curved or irregular surfaces makes them suitable for installations where traditional flat displays are impractical or limited in functionality.
P8 LED Display
The P8 LED Display is a high-quality and versatile outdoor display solution that utilizes P8 LED panels to deliver stunning visual content. With a pixel pitch of 8mm, this display offers excellent image clarity and sharpness even at relatively close viewing distances. The P8 LED Display is known for its vibrant colors, high brightness levels, and wide viewing angles, making it an ideal choice for outdoor applications where visibility under different lighting conditions is crucial.
P8 LED Screen
The P8 LED Screen is a cutting-edge display technology designed for outdoor usage. Its P8 pixel pitch ensures superior image resolution, making it suitable for large-scale advertising, sports arenas, concerts, and various public events. This LED screen excels in providing captivating and dynamic visuals with remarkable color accuracy and contrast. Additionally, the P8 LED screen offers reliable performance, energy efficiency, and a longer lifespan, making it a cost-effective solution for businesses and organizations seeking impactful outdoor advertising and entertainment displays.
P8 LED Panel
The P8 LED Panel is a modular unit that constitutes the larger P8 LED display or screen. These panels feature advanced LED technology, ensuring seamless integration and uniformity across the entire display surface. P8 LED panels are lightweight, easy to install, and enable flexibility in creating custom-sized LED displays for various applications. These panels boast exceptional durability, enabling them to withstand outdoor elements such as rain, dust, and varying temperatures, ensuring consistent performance and longevity.
The P8 Outdoor LED Screen is specifically engineered to thrive in outdoor environments, making it resistant to water, dust, and other environmental factors. The screen's P8 pixel pitch ensures crystal-clear visuals and captivating imagery, even when viewed from a distance. This robust outdoor LED screen is widely used in advertising, entertainment, and public information displays due to its exceptional brightness, contrast ratio, and ability to convey content effectively in various weather conditions.
P8 Outdoor LED Display
The P8 Outdoor LED Display is a powerful and reliable display solution designed for outdoor applications. Its P8 pixel pitch allows for high-resolution content delivery, ensuring impressive image quality and vivid colors. This LED display is commonly used for digital billboards, transportation information systems, outdoor events, and other scenarios where outdoor visibility is critical. With its rugged design, the P8 outdoor LED display can withstand harsh weather conditions and deliver consistent performance over extended periods.
LED P8 Outdoor
LED P8 Outdoor refers to a type of LED display or screen with a pixel pitch of 8mm, specifically designed for outdoor installations. This display technology is characterized by its ability to provide eye-catching visuals with excellent clarity and brightness, making it an effective advertising medium and an engaging platform for entertainment and informational purposes. LED P8 Outdoor displays are known for their energy efficiency, durability, and low maintenance requirements, making them a popular choice for outdoor signage and event displays.
P8 Outdoor LED Screen Price
The price of a P8 Outdoor LED Screen varies based on factors such as the size, resolution, brand, and additional features. Generally, P8 Outdoor LED screens are considered a cost-effective investment due to their long lifespan, energy efficiency, and low maintenance requirements. While specific prices may fluctuate depending on market conditions, it is essential to consider the overall value and performance of the LED screen when evaluating the cost. Potential buyers should compare different options and seek quotes from reputable suppliers to find the best deal that suits their budget and requirements.
FAQ:

1)Reply your inquiry in 24 working hours.

2)Experienced staffs answer all your query in fluent English etc

3)Customized design is available,OEM & ODM are welcomed.

4)Exclusive and unique solution can be provided to our customer by our well-trained and professional engineers and staffs.

5)Special discount and protection of sales area provided to our distributor.

6)Warmly welcome your visit in our company if available.

7 ) Guidance service: We can guide on line if customers have questions about the installation and usage.
For large project, we provide your engineer a week free training, or if customer could bear the relevant cost, our engineer can go to customer's country for on-site guidance.


PDF download


bendable led screen p8.pdf